Our client, John O'Connor, on September 27, 2019, presented State Farm Insurance Company in Pennsylvania with a third-party inherent diminished value claim for the loss of value subsequent to his truck being fixed. A Ford Super Duty F-250 Lariat Crew Cab 4WD with 7,260 miles, the repairs included the replacement of the frame. AUTODIMINISHEDVALUE.COM was hired to provide a diminished value report and whatever support we could offer on his behalf. Our research showed that the truck lost approximately 45.83% of it's pre-accident fair market value. The diminished value, which came to $27,268.85, was that high due to the frame damage. No Ford dealer would put this truck on their lot after taking it in on trade because they are unable to certify it and banks won't finance it. It would go straight to auction where, hopefully, the dealer that consigned the vehicle would be compensated for at least as much as they paid. Frame damage and air bag deployment cause any vehicle to lose close to half their value – and that's only if it is traded for a new car. In an outright sale, a Ford dealer would offer ten cents on the dollar if they'd consider buying it at all.
WE DON'T USE FORMULAS, ALGORITHMS, AD COMPARISONS OR OTHER SHORT CUTS
SIX DEALER QUOTES IN EVERY APPRAISAL
TELEPHONE CONSULTATIONS ALWAYS FREE-OF-CHARGE
During our research, one Used Car Manager at a Ford dealership said with frame damage it will be a 50% hit and also, if the Carfax has on it that it has been frame damaged, he won't even touch it. Another manager said he can't believe that it was not totaled. We can't do anything with it. Your client stands to lose 50% in a trade.
This was State Farm's response to Mr. O'Connor.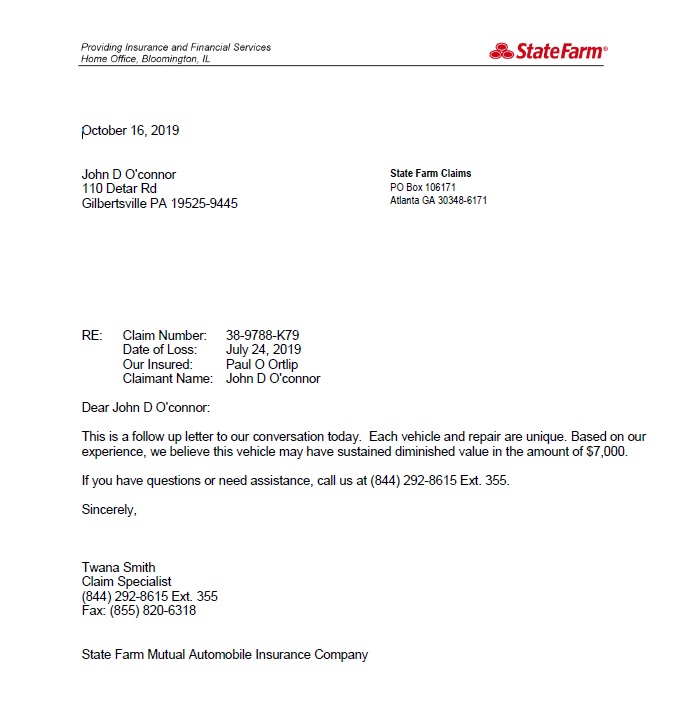 Our advice to Mr. O'Connor:
State Farm wrote "based on our experience" which says nothing without the underlying explanation of what that means. It amounts to "we made it up" so please ask them for the methodology used to arrive at their figure. Just as you provided them with the methodology used by your appraiser.
Mr. O'Connor immediately wrote to the State Farm file handler:
Thank you for the advice. I put together a letter to State Farm including addressing items you advised me on. State Farm claims they used NADA to come up with their number but did not offer any support of that number in writing. This morning, I called NADA (JD Power) and spoke to a rep, Joshua. I asked him if NADA numbers take into account repairs a vehicle has had due to an accident. He said no, it only takes into account the condition of the vehicle, such as rough, average and clean trade ins as well as clean loan and clean retail. Non of which apply to me. So, I am guessing that State Farm used the rough trade in value to come up with their fictitious offer. I wanted to let you know this information so you know this since this is what you do for a living. You may have been aware of it or this may be a new tactic by insurance companies to try to bend over claimants. I believe in my letter I have put State Farm in a position where they have no choice but to deal with me in good faith or they know I will go to litigation. If you would like to see what I wrote them I can forward you the letter. Thanks again for your help and I have been keeping notes with all of my dealings with State Farm. I am curious as to how this will end up because I think State Farm just shot themselves in the foot and they know it.
A week later I received this correspondence from Mr. O'Connor:
I just heard from State Farm and they called me and I did not answer the phone on purpose because I asked for everything in writing. They left me a voicemail and said they can offer $7,000 and that's it, very short email. They are not acknowledging my request to see how they come up with that number. I am thinking of emailing them requesting the methodology for that $7,000 otherwise I'll be contacted by my lawyer and file a complaint for unfair claim practices.
Another week passed. Mr. O'Conner was persistent in his quest for fair treatment.
Good morning and hope all is well. To update you on my dealings with State Farm and my DV claim, State Farm is simply holding firm on their $7,000.00 offer with no valid method to back it up. I saw my attorney yesterday and will see him again on November 8, 2019. I wrote State Farm another letter telling them in very plain English that I saw my attorney yesterday and I am giving them until November 7, 2019 to settle out of court. I told State Farm I will settle for not one penny less than $18,000.00 but if we do not settle and go to court I am going for the full DV claim amount of $23,090.00 plus attorney fees and your fee to testify via video conference. I am starting to see that my accident has been handled completely wrong since the get go by State Farm and I have let them know it. I am hoping they do settle out of court because I have a very strong case, not only with diminished value but since my truck was completely rebuilt there are valid safety issues that concern me.
Another month had passed when I received this email from Mr. O'Connor:
Hello. I wanted to update you on my truck. Saw my lawyer today, State farm offered to settle out of court for the balance of the property damage limit of the person who hit me. It cost $30,600 to fix my truck and give me a rental, they offered balance of $19,400. I am taking it. However, my lawyer suggested filing a small claims lawsuit for $12,000 to cover my legal fees and balance of my diminished value not covered by property damage limits. State farm screwed up and only had one adjuster deal with both parties in the accident (we are both insured with State Farm) and acted in bad faith, so we are filing a bad faith against State Farm to collect the remaining balance. I should of had my own adjuster and been involved in the decision to fix or total my truck. That never happened. I'll let you know what happens in small claims. Thanks again for your help and take care.
By now it is June 1, 2020.
Hello and hope all is well. Updating you on my truck that you helped me with over the past 6-7 months. So far, it cost 30k to fix truck and pay for my rental, I received 20k in diminished value with help of my lawyer and State Farm just paid my repair shop 8k to replace the transmission in the truck. I've been having problems with the transmission since the accident and Ford wrote up an estimate and said the transmission needs to be replaced. Truck goes in Monday for new transmission. That brings the total so far to 58k plus their lawyer fees. Also, we are about to file a bad faith claim for 12k because State Farm used one adjuster to represent both parties. That will put them over 70k! FMV was 55k at time of accident. Like you told me, they should have totaled it. Makes absolutely no sense. Take care.
It can seem hopeless when a large corporation such as State Farm tries to impose its will. But John O'Connor and his attorney kept up the fight.
The final email that we received from Mr. O'Connor on November 15, 2020 is printed here verbatim.
Hello. Well, finally it is coming to an end after over a year since my accident. I wanted to get you a final recap of what happened. It was a long and winding road as you stated
1) Accident July 24, 2019
2) Diminished Value Appraisal you provided: $22,500.00
3) Fair Market Value per your appraisal: $55,000.00
4) Cost to repair truck: $27,500.00 (paid by State Farm) (frame swap and complete rebuild of the truck, should have been totaled)
5) Cost of rental truck: $3,000.00 (paid by State Farm)
6) 6 months after accident, transmission replaced due to accident: $8,000.00 (paid by State Farm)
7) Diminished Value claim I filed and won: $19,367.10 (paid by State Farm)
– I paid $3,000.00 for lawyer fee to collect DV, actual money recouped was $16,367.10
8) Bad Faith Claim per my lawyer to collect lawyer fees and balance of DV I lost: As of November 2, 2020, State Farm did not enter a defense to this case and I was awarded $12,225.00. They have 30 days to appeal but most likely will not because they used one adjuster to represent both parties in my accident. Both parties in accident had State Farm as their insurance carrier, State Farm acted in Bad Faith and it's a conflict of interest, they already admitted this. Once the bad faith suit is settled, I will receive another $8,000.00 and the lawyer gets $4,000.00. Once I receive this final payment, I will then be back to my financial position prior to the accident.
9) Estimated lawyer fees for State Farm: $10,000.00
10) I just got truck back yesterday because shop messed up paint work during original rebuilding of the truck. This was noticed Spring 2020, Summer 2020 they tried to do a paint correction and screwed it up even more. I went to another shop, was told had to be stripped and repainted, start over from scratch shop estimated $9,000.00 to do this. I took back to original shop, they used a different painter, truck is now, in my opinion, back to pre-accident condition as close as it can be. This cost was absorbed by the shop, no cost to me or State Farm.
So, total amount of money spent by State Farm to repair a truck worth $55,000.00 in the market:
Repairs: $27,500.00
Rental: $3,000.00
Transmission: $8,000.00
Diminished Value Claim: $19367.10
Bad Faith claim: $12,225.00
Estimated State Farm attorney expenses: $10,000.00
Total: $80,092.10
And there ya have it, what a mess. I am happy this is, for the most part, over. Thank You for all of your help and advice.
READ CUSTOMER REVIEWS
Service throughout Alabama, Alaska, Arizona, Arkansas, California, Colorado, Connecticut, Delaware, District of Columbia, Florida, Georgia, Hawaii, Idaho, Illinois, Indiana, Iowa, Kansas, Kentucky, Louisiana, Maine, Maryland, Massachusetts, Michigan, Minnesota, Mississippi, Missouri, Montana, Nebraska, Nevada, New Hampshire, New Jersey, New Mexico, New York, North Carolina, North Dakota, Ohio, Oklahoma, Oregon, Pennsylvania, Rhode Island, South Carolina, South Dakota, Tennessee, Texas, Utah, Vermont, Virginia, Washington, West Virginia, Wisconsin and Wyoming


Click on the payment button above to pay by Credit Card or Paypal. The fee for an Automobile Diminished Value Report is
$275.00. You may also make your Credit Card Payment by telephone, call 772-359-4300.

After making your secure payment please email the body shop estimate or insurance company appraisal to contact@autodiminishedvalue.com
TESLA AND OTHER EXOTIC CAR OWNERS PLEASE CALL FOR RATES.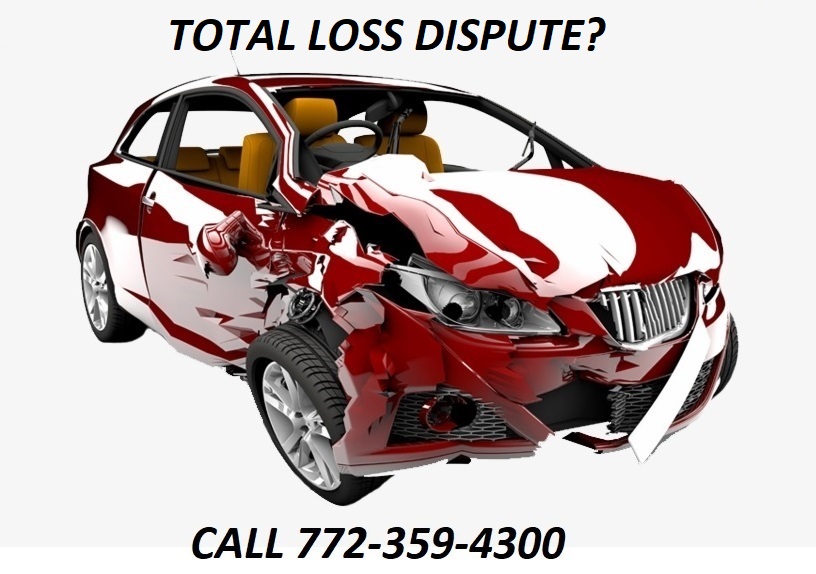 This is an Open Education Resource focused on auto diminished value, collective knowledge and the sharing of scholarly content.
AUTODIMINISHEDVALUE.COM and TOTALLOSSDISPUTE.COM are services of The St. Lucie Appraisal Company.